Birkenhead MP Frank Field to stand as new social justice candidate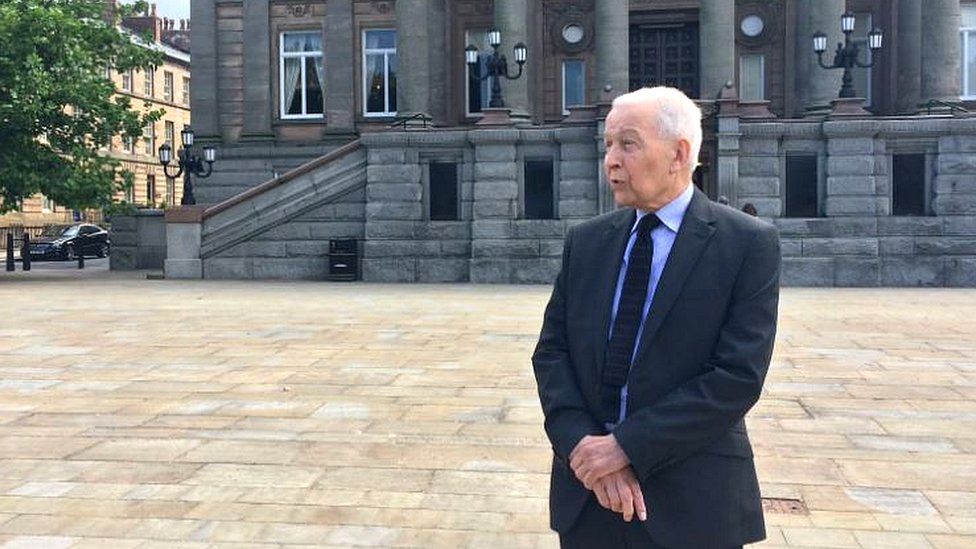 Veteran MP Frank Field, who resigned the Labour whip last year, is to stand for a new party at the next General Election.
Mr Field, 77, who has been MP for Birkenhead for 40 years, said he would defend his seat as the Birkenhead Social Justice Party candidate.
Announcing his plans at Birkenhead town hall, he said: "Reports of my political death have been wildly exaggerated."
He quit Labour in August saying it had become "a force for anti-Semitism".
The MP also blamed a "culture of intolerance, nastiness and intimidation" in local parties.
A specialist on welfare issues, Mr Field has chaired the Commons Work and Pensions Committee since 2017.
He said he would continue to campaign for social justice and was preparing a manifesto based on the views of people in Birkenhead.
He said: "I will be standing again as a candidate at the next election with the aim of doing what I have done for 40 years: always putting the interests of our town and our country first while championing the views and interests of the underdogs in our society."
By Claire Hamilton, BBC Radio Merseyside political reporter
Some would say Frank Field has never really fit into the Labour Party.
He had some good things to say about Margaret Thatcher, for example, and famously fell out with Tony Blair and Gordon Brown. And he supported the Leave campaign ahead of the 2016 referendum.
He tells me his relationship with the parliamentary Labour group hasn't changed - but locally it's been a different story, with many well-publicised rows and several Labour ward councillors quitting the party.
The people I spoke to in Birkenhead's Hamilton Square had all heard of Frank Field, and most spoke warmly of him. Would they vote for him, after a lifetime of voting Labour? "yeah, why not? He's a Birkenhead fella," said one.
Ahead of this announcement, former party members told me that if anyone could win as an independent candidate against Labour on Merseyside, it would be Frank Field.
But one Labour member told me - he's yesterday's man, with a poor track record on bringing jobs to the town.
However, they all agree that for the first time in four decades, the safe Labour seat of Birkenhead will be one to watch at the next general election.
A month before his resignation last year, he lost a confidence vote in his constituency party, after siding with the government in Brexit votes.
Mr Field first became a Labour MP after serving as Director of the Child Poverty Action Group from 1969 to 1979.
Related Internet Links
The BBC is not responsible for the content of external sites.