Cheshire police chief Simon Byrne cleared of misconduct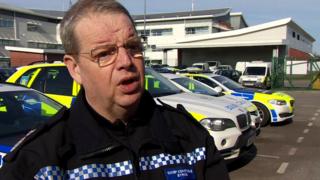 A chief constable accused of bullying staff has been cleared of misconduct.
Simon Byrne was suspended from Cheshire Constabulary last year after being accused of bullying and humiliating staff between May 2014 and March 2017.
A panel said the misconduct case, which cost £350,000 in public funds, "could and should have been avoided". It found no allegations of gross misconduct or misconduct were proved.
Mr Byrne said he had been "totally exonerated of any wrongdoing".
The 55-year-old's contract with the force expired earlier this year.
More stories from the North West of England
A hearing in Warrington earlier this year was told he had a reputation for being like Star Wars villain Darth Vader.
In a statement released after being cleared, Mr Byrne said: "I am very pleased to have been totally exonerated of any wrongdoing."
He said it had been "an ordeal" that "wasted precious public money" and that "in some ways, it still feels like upside down justice as I have lost my vocation after 35 years of public service".
The earlier hearing was told Mr Byrne, who moved from the Met Police to the force in 2014, was "dysfunctional", had a "disregard for his subordinates" and treated treated junior officers and staff like "road kill".
'No malevolent intent'
The hearing was told he handed pictures of Dad's Army characters to officers after he became angry when flooding made him late for work.
However, the panel found the incident was an example of Mr Byrne's "approach to leadership" and it was wrong to attribute "malevolent intent" to it.
Cheshire police and crime commissioner David Keane said there had been "no realistic alternative" to holding the inquiry.
In its report, the panel said it had "been an unfortunate experience for all" that "could - and should - have been avoided."
"We have reflected at length on the circumstances which led to such a time consuming (and costly) process being used to try and resolve what was essentially a clash of cultures, personalities and attitudes", the report said.
The panel found a number of the 74 allegations were exaggerated by witnesses.
'Extremely disappointed'
It said guidance and mentoring for chief constables should be welcomed by police forces to prevent a similar situation.
Mr Keane said the proceedings had cost just under £350,000 but what is "really important to me is that we followed a statutory, laid down procedure" and have "accountability within policing."
But Joanne Moorcroft, secretary of the Cheshire police branch of Unison, said some of its members had "shown immense courage and bravery to come forward" and the branch was "extremely disappointed" by the outcome.