Cammell Laird, Unite and GMB agree to 'suspend strikes' for four weeks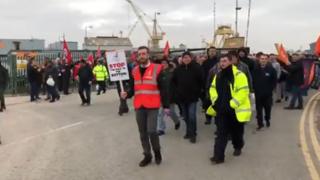 Shipbuilder Cammell Laird and two unions have agreed to suspend redundancies and strikes for four weeks.
A joint statement issued by the company, Unite and GMB said they were in "constructive discussions".
The statement says the agreement, brokered by Mayor of Liverpool Joe Anderson. provides "breathing space".
Unite members began industrial action at the Birkenhead site last month over management's plans to cut 291 jobs.
It was anticipated the strikes were to be extended from mid-December until mid-January.
The industrial action included a ban on overtime and a series of rolling strikes, which saw different sections of the workforce walking out for 24 hours at a time.
Workers were worried they could lose their jobs the week before Christmas, the unions claimed.
'Work together'
The statement said: "This agreement provides for a four-week breathing space and paves the way for the establishment of a joint taskforce by the mayor."
The taskforce will involve Unite, GMB, Cammell Laird, Merseyside local authorities and central government departments alongside the shipyard's customers.
The agreement recognises the need for the yard to "remain competitive in bidding for new and future work", the statements adds.
All parties have agreed to "work together to ensure this remains the case".
The task-force will meet on Friday to formulate an "action plan" that secures the future for the yard and its workforce.
Maria Eagle, Labour MP for Garston and Halewood, tweeted: "Good to hear down at #CammellLaird today that both sides have agreed to suspend redundancies and resultant strike for four weeks for solutions to be found."