'Disowned' mum-to-be, 16, showered with gifts from Liverpool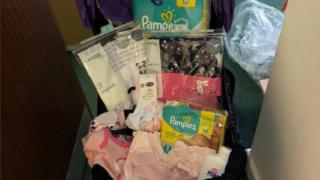 People moved by the plight of a pregnant 16-year-old who was disowned by her family and left penniless have responded with a flood of donations.
The girl, who is eight months pregnant, was asked to leave her home in Dublin by her family and moved to Liverpool.
After an online appeal by the L6 Centre in Liverpool, supporters donated nappies, food and clothes for the baby.
The organisation's managers said the raft of donations would help families across the city.
The non-profit group posted on its Facebook page on Tuesday that the girl had made a plea for help after struggling to afford essential baby items.
'Nowhere to go'
She feared she would be discharged from hospital after giving birth, but the baby would remain in the care of authorities because she was unable to provide for the child.
The centre has since been inundated with essentials and cash, which will allow the centre to buy the teenager a cot and a pram.
Councillor Gerard Woodhouse, who runs the centre, said the donations would help it to clothe "about 20 kids".
He added: "I would like to thank the community for their generosity in such unpredictable hard times where everybody is feeling the crunch.
"She has literally not got a penny. She had nowhere to go."
Mr Woodhouse said the girl had been living in Liverpool for three months with a relative, who had four children of her own and could no longer afford to help her.
She would be unable to work until she was given a National Insurance number in January, he added.