'Slave' spared night on Liverpool streets by judge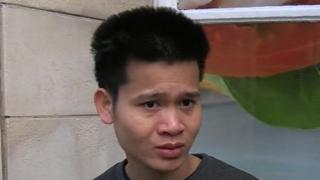 A judge halted proceedings to keep an innocent teenage "slave" trafficked from Vietnam in custody rather than subject him to a night on the streets.
Prosecutors planned to offer no evidence against Tuan Anh, 18, when he appeared on Thursday at Liverpool Crown Court on charges of growing cannabis.
Judge David Aubrey adjourned the case for a day, meaning Mr Anh had a roof over his head before an appointment with immigration officials on Friday.
He was arrested in a raid in September.
John Weate, defending Mr Anh, made an emotional plea to the judge on behalf of his client, who was clutching a photograph of his dead mother in the dock.
'Common humanity'
He said Mr Anh was "vulnerable" after being brought to the UK in a lorry from Vietnam where he was promised a job in the UK before being made to work without pay.
Mr Weate said his client planned to apply for asylum, which would give him access to financial support.
Mr Anh would have been released from custody on Thursday had the judge allowed the prosecution to drop its case.
Judge Aubrey questioned how the defendant would find the immigration centre and added: "I am being asked to do something that I find displays the common humanity and justice which I always believe are the hallmarks and foundation of our system."
Mr Anh, who was accompanied in court by an interpreter, was charged with being concerned in the production of cannabis between June 1 and September 29 2018.
The court heard he was arrested in Egremont, Wallasey, alongside two other young Vietnamese men who were tending 250 cannabis plants.
Home Office inquiries found Mr Anh was the only one of the three men who had been illegally trafficked.