Countess of Chester Hospital baby unit plans approved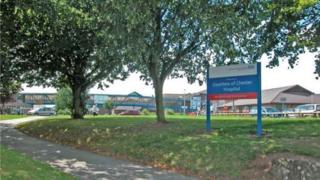 Plans to build a new neonatal unit at a hospital in Chester have been approved following a second application.
The Countess of Chester Hospital will use £2.4m raised through fundraising appeals to build a bigger unit.
The plans were initially blocked when Cheshire West and Chester Council said the unit would be "overbearing".
More than 20,000 people signed a petition in support of it and the hospital, which has come under scrutiny for baby deaths, has revised its plans.
The hospital's neo-natal services have been under police scrutiny since 2017, and a nurse arrested on suspicion of murdering eight babies there was released on bail in July.
An inspection by the Care Quality Commission in 2016 found the hospital's current neonatal unit "lacked storage space and resources".
Acting hospital chief executive Dr Susan Gilby said she was "really pleased" that the "dark, dingy and cramped" current unit would be replaced.
"Our clinical teams deliver outstanding work and care to our most vulnerable babies but the environment in which they do it is less than ideal," she said.
"We need the room and facilities to enable the parents to be part of that team that cares for the babies and to get the excellent outcomes we have."
In reference to the ongoing police inquiry, Ms Gilby said the hospital's focus was also on "getting answers for those who are waiting for a very important and complex investigation".
'Important to be good neighbours'
She added that the new unit would bring more "light and air" into the environment and have spaces for families to "stay in the room together" as babies recovered.
The hospital's initial application was refused because the council felt it would lead to a "loss of outlook" for residents of the nearby Bache Hall Estate.
Ms Gilby said she was "very mindful" the hospital must be both an "important part of the community" and "good neighbours".
Money for the new unit has been gathered at fundraising events across Chester and North Wales since 2013 as part of the hospital's Babygrow Appeal.
Niamh Hocking, who began the petition to overturn the council's planning rejection, said she was "delighted" and added the new unit would "make a massive difference to people who have premature babies in the future".