Liverpool cash machine blown up by would-be thieves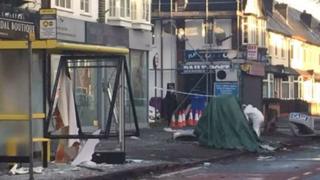 Would-be thieves in Liverpool blew up a cash machine but were unable to take any money from it, police said.
People living in the Mossley Hill area of the city were woken by the sound of a "loud bang" at 23:50 GMT on Monday.
Nobody was injured in the explosion on Rose Lane, but it caused extensive damage to surrounding premises, said Merseyside Police, who have appealed for witnesses to come forward.
The offenders are believed to have driven off towards Allerton Road.
Rose Lane remained closed in both directions on Tuesday morning as police continued to investigate.
Det Insp Paul Speight said: "Our investigation is in its very early stages and it appears that thankfully nobody was hurt.
"However, this is an extremely dangerous way to target any premises, which clearly put members of the public at risk.
"The damage and inconvenience to the businesses nearby is also significant, and we have shown before in successful operations that we will use all available means to identify and bring to justice those identified."