Manchester's House of Fraser store Kendal's saved from closure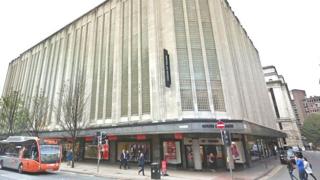 House of Fraser's landmark Manchester store has been saved from closure, the company has announced.
New terms have been agreed with the landlord enabling the former Kendal's store to continue trading.
Sir Richard Leese, leader of Manchester City Council, said: "Today's announcement is fantastic news for the city."
Financially troubled House of Fraser (HoF) was bought for £90m in August by Sports Direct owner Mike Ashley.
The company said the deal had saved about 568 jobs and the future of one of the region's most recognisable department stores.
Mr Leese added: "I am proud that the council has been able to play a constructive role in saving a real Manchester icon and hundreds of jobs."
HoF said the city council was "instrumental" in working alongside business and the landlord to help secure the future of the store.
Mr Ashley said: "This demonstrates that when landlords, local authorities and retailers work together the outcomes can be outstanding.
"When working together we can make a real difference to the high street."
The Sports Direct billionaire had previously blamed "greedy landlords" for the closure of three HoF department stores in Edinburgh, Hull and Swindon.
Ram Rasiah of CBRE, who represented House of Fraser, said: "This is a significant deal for Manchester and we are delighted to have agreed for Kendals to remain open."
The Kendal's building has been a much-loved fixture since it first opened in 1832, dominating its location on Deansgate.
Mr Leese has called the current 1930s building "a treasure" of the city's architecture.
The shop's original name was Kendal Milne & Co and it is a listed building.
"Kendal Milne" is still visible on the marble facia above the store entrance.