Gunman 'fired 18 rounds' at gang member Paul Massey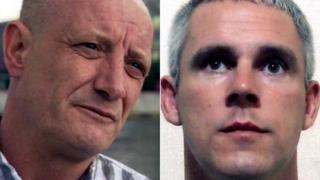 An underworld "Mr Big" dived for cover behind bins as a gunman fired 18 rounds from an Uzi at him, a court heard.
Paul Massey from Salford, and his friend, John Kinsella from Liverpool, were killed three years apart in a deadly gangland feud, jurors were told.
Prosecutor Paul Greaney told Liverpool Crown Court how Massey was attacked near his home as he tried to make phone calls for help.
Mark Fellows, 38, and Steven Boyle, 35, both deny the murders.
Mr Fellows, of Warrington, and Mr Boyle, of Heywood, Greater Manchester, also deny the attempted murder of Kinsella's partner Wendy Owen.
Family members of 55-year-old Massey cried as the jury was shown a photo in which his body could be seen in the distance.
Witness Matthew Jones, who had been in a car park opposite the house at the time of the shooting on 26 July 2015, had described hearing gunfire.
Mr Greaney said: "He watched as Paul Massey dived behind his bins, at which point the gunman walked up the drive and towards Paul Massey in order - as it seemed to Mr Jones - to get a better shot at him."
'Cool and focused'
Kinsella, 53, was killed on 5 May 2018 by a gunman in Rainhill, Merseyside.
Footage was played of a police interview with Miss Owen, who said that while walking with Kinsella and their six dogs she turned to see a man on a mountain bike and heard a "puff" sound from a gun.
She told officers she screamed and ran towards the man, who shot at her. He was "cool" and focused on Kinsella, she said, and "wanted to finish the job".
The court has heard that Mr Fellows and Mr Boyle were associated with a gang led by a man named Michael Carroll, while Massey and Kinsella were associated with a rival gang called "the A Team", headed by a man named Stephen Britton.
Mr Greaney alleged a GPS-enabled watch seized from Fellows showed he had done a "reconnaissance run" by bike to a field near Mr Massey's house three months before the shooting.
He said a car allegedly driven by Boyle was seen following Massey's BMW on the day of his death.
Mr Greaney said: "The patterns across the two murders are clear: Mark Fellows and Steven Boyle operating together; Mark Fellows the gunman and Steven Boyle the spotter and back up; Mark Fellows using a bike and Steven Boyle in the car."
The trial continues.