Briton spared jail for spraying 'Scouser Lee' on Thai gate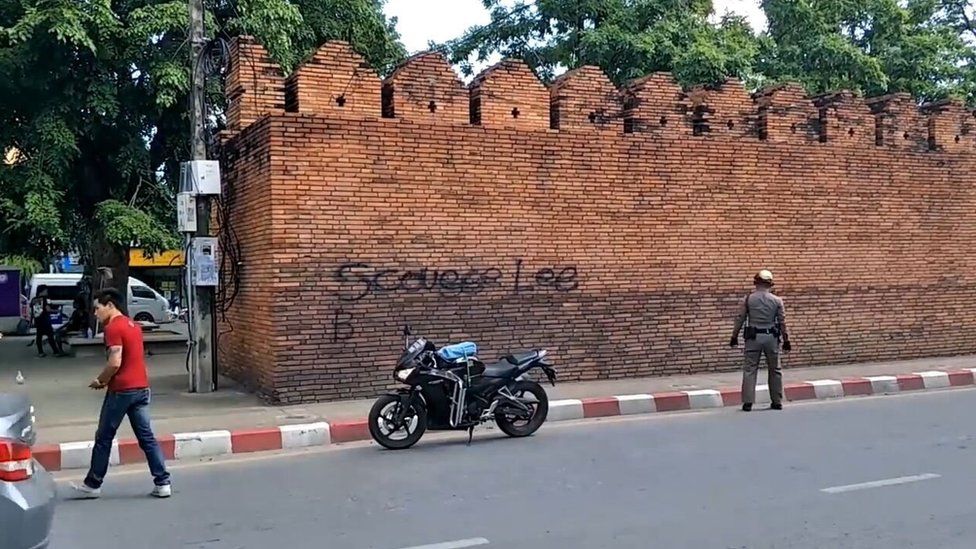 A British tourist who spray-painted his name on a Thai landmark has been spared jail.
Lee Furlong admitted defacing Tha Phae Gate in the city of Chiang Mai, police said, an offence which could have seen him imprisoned for 10 years.
But the 23-year-old from Liverpool was instead fined 200,000 Thai baht (£4,700).
Mr Furlong admitted to the crime, and claimed he was a "little bit drunk" at the time, police said.
The BBC understands Mr Furlong is free to return to the UK.
Thai media published a video which showed a man spraying what appeared to be "Scouser Lee" on the gate.
A Canadian woman, Brittney Schneider, was also freed after she allegedly sprayed her first initial on the gate, police added.
Supt Teerasak Sriprasert, a local police chief in Chiang Mai, said last month that Furlong and Schneider would face "no more than 10 years' jail [and/or] a fine of no more than a million baht (about £23,400)".
But he said that judges overseeing the trial this week "agreed to give them a chance and gave them a two-year parole instead", along with the reduced fine.
The structure that was defaced by Furlong and Schneider is one of five historical gates in the city, and parts of it date back to the 13th Century.
Thai media reported that CCTV from a nearby cafe showed four people approaching the gate in the early hours of 18 October. Two of them approached the wall, and one began to spray it.
Furlong and Schneider were arrested shortly after at their guesthouse, and taken on a re-enactment, according to Thai police.
The other two people shown in the video were not arrested.
Chiang Mai is Thailand's fourth-largest city and tourists can visit the historic walled parts of the city.