'Neglected' duck decoy pond placed on Heritage at Risk list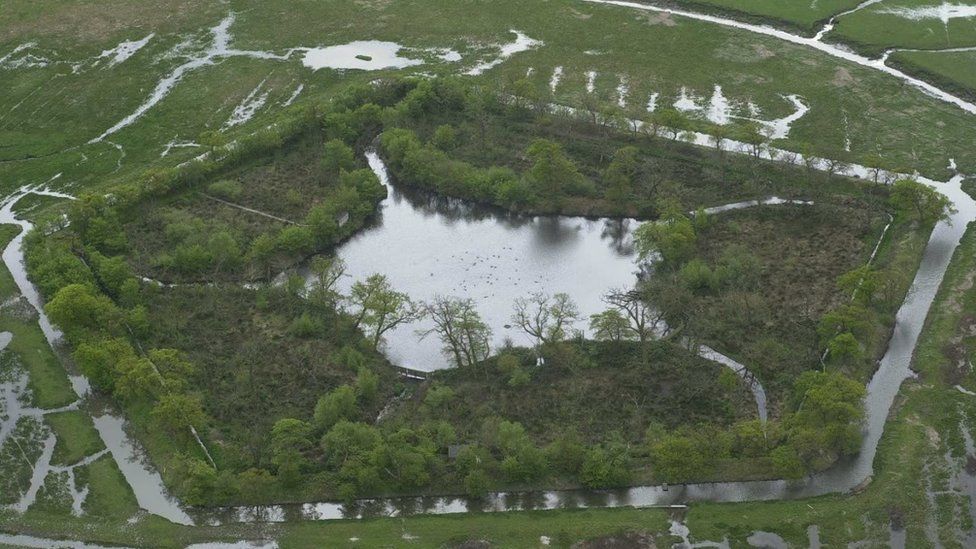 A "neglected" 17th Century pond, which was once used to catch about 400 ducks a year, has been placed on Historic England's (HE) Heritage at Risk list.
Hale Duck Decoy, a pentagonal pool surrounded by a moat and ditches, was "important", the organisation said.
Rob Cockbain of Friends of Pickerings Pasture, who has campaigned to save the pond in Widnes, Cheshire, said it was underappreciated.
"People would make a fuss over it... if it was a house [or] painting," he said.
The decoy, which covers about nine acres (four hectares) of salt marsh, includes a small woodland and the original ironwork which supported catching nets.
Decoys are believed to have originated in the Netherlands - the word itself may have derived from the Dutch 'eendenkooi', meaning duck cage
They were popular in the 18th and 19th Centuries with a small number still being used in the 1930s
A dog, traditionally called Piper, was used to lure ducks down the pipes into a catching net or cage
HE said the site "survives remarkably well", with the brick-lined features being "well preserved" and the drains "cleaned out and functioning".
"The survival of working features of the site give important information on the original management and function of the decoy during the 17th Century," a spokesman said.
Mr Cockbain said it was "upsetting" it was under threat but he hoped it would be preserved.
"It is so sad it has been neglected - it's part of our history."
He added that the site was dangerous to the general public and access was only possible via guided walks offered by his group.
The Friends of Pickerings Pasture will now work with HE and Halton Borough Council to preserve the site.
A council spokesman said it was hoped the listing "will highlight its importance and allow funding to be brought in which can be used to repair and restore it".
Related Internet Links
The BBC is not responsible for the content of external sites.