Kirkby playground set on fire by 'mindless idiots'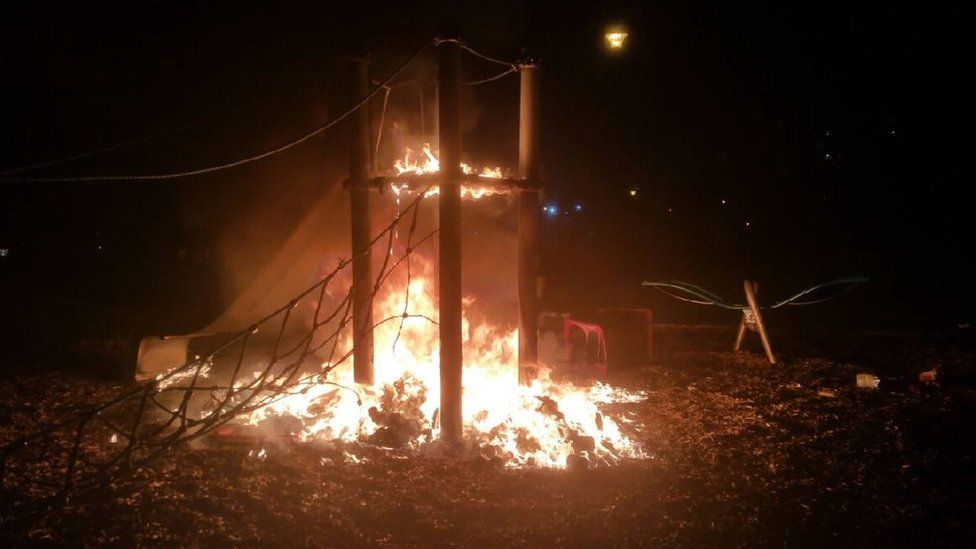 A councillor has slammed "mindless idiots" who set fire to a children's playground which was renamed in tribute to a soldier killed in Afghanistan.
Swings and a slide at Memorial Park in Kirkby, Merseyside, were destroyed in the blaze, which was discovered by police officers at 19:10 GMT on Monday.
The park was renamed in memory of L/Sgt Mark Burgan who was killed in 2011.
Merseyside Fire and Rescue Service said crews used buckets of water to put out the blaze.
Local councillor Simon Donnelly posted on Facebook: "To the mindless idiots who decided to set a children's play area on fire - why?"
"Not only is this extremely dangerous but you're criminal and selfish actions have now taken away a facility for local children to play."
Merseyside Police Insp Phil Mullally said the fire, which also involved two wheelie bins, appeared to be a "deliberate and disgraceful act of vandalism".
"To destroy a children's play area in this way is completely unacceptable and very upsetting for local children who have woken up to a mess rather than a beloved place to play," he added.
Police said a group of youths, all dressed in black, were seen in the park around the time of the fire and have appealed for anyone with information to contact the force.
Related Internet Links
The BBC is not responsible for the content of external sites.