Labour councillor quits amid 'had left bullying' claims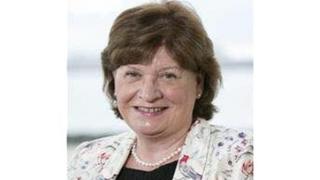 A veteran Merseyside councillor has quit Labour amid claims of "bullying and intimidation" by "the hard left".
Moira McLoughlin, a councillor in Wirral for 23 years, said she would continue to sit as an independent.
Her resignation comes after council leader Phil Davies announced he was stepping down and Birkenhead MP Frank Field also resigned the Labour whip.
Kathy Runswick, from the area's Local Campaign Forum (LCF), said her claims about bullying "aren't accurate".
Ms McLoughlin said: "I have lost confidence that the Labour Party has got either the ability or the will to deal with the hard left takeover that is now almost complete in Wirral."
The Rock Ferry councillor said she had submitted evidence of "bullying, intimidation and vilification" to the party, which she claims had not been addressed.
Her decision came after another Labour councillor, Chris Meadon, was not reselected as a candidate for the Rock Ferry seat, in favour of and Yvonne Nolan, who was a council leader in the 1980s.
Ms McLoughlin continued: "We are seeing long-serving, hard-working moderate councillors being threatened with de-selection. [The hard left] have taken over all four of the constituency parties on the Wirral and also the LCF."
However, Ms Runswick, who is vice chair of the LCF, which recruits and shortlists potential candidates for council elections, said the councillors claims about bullying were not accurate and the idea that there is "some sort of hard left" takeover was "quite strange".
"I wish she had stayed in the party", she added.
---
Analysis
Claire Hamilton, BBC Radio Merseyside Political Reporter
The last three months have seen simmering tensions in Wirral Labour bubble to the surface.
There is an "us and them" mentality between some long-established councillors and new or returning members of the local Labour party, who have repopulated its meetings and reinvigorated its structures.
The Local Campaign Forum has vigorously defended what it believes is an open and democratic selection process.
Many argue being a councillor should not be regarded as a job for life, and that challenge and debate are part of a robust party democracy.
But there are others who fear the pace of change, and worry about how a shift to the left could affect the Town Hall in the long run.
---
Ms Runswick said the selection process was being run "according to the Labour Party rule book".
"It is unfortunate as she was selected by Labour Party members. She should stand down and let the electorate choose in a by-election", she added.
The selection process for 22 councillor roles in Wirral is due to finish in November.
In Liverpool, the process is nearly complete with 25 of 30 prospective councillors selected.
Of these, three sitting councillors were not reselected - Alan Dean, Michelle Corrigan and Irene Rainey.