Two Chester Zoo elephant calves die of virus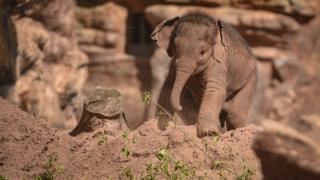 Two elephant calves have died after falling ill with a virus at Chester Zoo.
Three-year-old Nandita Hi Way and 18-month-old Aayu Hi Way tested positive for endotheliotropic herpesvirus on Monday, the zoo said.
The calves underwent "ground-breaking" blood transfusions and were given anti-viral drugs but died on Thursday.
The zoo described the deaths as "heart-breaking" and said the herd would mourn the "charismatic little calves".
Almost all Asian elephants carry the virus but it only develops into an illness for some, and is usually fatal.
The virus attacks membranes and rapidly causes fever and bleeding.
Chester Zoo's director of animals Mike Jordan said Aayu and his half-sister Nandita "will be missed by their young siblings in the herd who will no doubt mourn for a short time".
He said the pair, which were both born at the zoo, were "wonderful, confident and energetic".
"To lose them both is also devastating to all of us here who have cared for them day in, day out," he added.
"We fought for them until the very last moments, but were unable to save them. It is just heart-breaking."
Keepers detected signs of the virus early and a team of vets and other experts "worked tirelessly" to treat them, the zoo said, but the elephants rapidly declined.
Relatively little is known about the virus, which affects both wild and captive elephants, and there is no vaccination against it.
Conservationists have discovered fatalities among Asian elephants around the world, including in India, Nepal, Thailand, Indonesia and Myanmar.
Two young elephants died of the virus at the zoo in 2015.