Boxer's family 'astounded' by huge art portfolio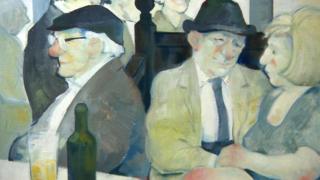 A former boxer's family has been left "astounded" after finding a huge portfolio of his paintings while clearing out his house after his death.
Eric Tucker's brother discovered over 400 works in his Warrington home.
The 86-year-old, who boxed in the 1950s, had been known to paint in his spare time, but his nephew Joe said no-one knew he was so prolific.
He said he now hoped the works would be exhibited "to make sure people don't miss out on the story of my uncle".
The paintings depict scenes from working class life in the north of England, as well as circus acts and cabaret shows.
Joe said his father, who had the job of clearing out his brother's house, had found them "just everywhere".
"When you opened a cupboard or wardrobe, it'd be full of canvases [and he] found some in his garden shed," he said.
"I was getting texts off my dad as he was counting them.
"He'd say 'OK, there's over 200', then... open another cupboard and find another 50 more. It was just unbelievable."
He said the reason why Eric produced the works was "a bit of a mystery" but he believed his uncle did so because he "felt compelled to do it".
He said his "gregarious" uncle "sometimes gave paintings to family members as gifts", but had "completely refused to exhibit or sell" any works.
However, he said the 86-year-old had told his father shortly before his death that he would "like his work to be seen after he was gone".
As a result, he and his family now hope to exhibit the works in a gallery, which he said would not be "about selling them or anything like that".
"We just want to make sure people don't miss out on the story of my uncle," he said.
The family have opened up Eric Tucker's home for two public viewing sessions on 27 and 28 October.