Toddler hurt by discarded needle in Wetherspoon pub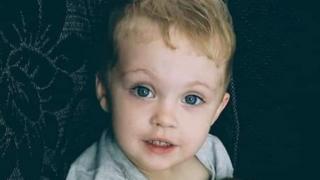 A toddler had to be tested for HIV and hepatitis after pricking his finger on a discarded needle in a Wetherspoon restaurant, his mother has revealed.
Amy Bate said two-year-old Oscar found the needle under a table at The Glass House in St Helens on Sunday.
She said she would have to wait months to find out if he had been infected, but the National Aids Trust said there were no recorded cases of discarded needles leading to HIV infections.
Wetherspoon has issued an apology.
Ms Bate said she felt "sick" when she realised what had happened.
"He just said 'ouch' and I could see he was holding what looked like a blue marker pen lid with a needle in it," she said.
"The table had been cleaned before we sat down, but we didn't check the floor.
"My mind is racing now - I won't be able to relax until I know for sure he is alright."
'Horrible incident'
Ms Bate said medics at Whiston Hospital had classed Oscar as being at "low risk" of HIV infection, but he would have to have further treatment for three weeks and then blood tests every three months.
Wetherspoon spokesman Eddie Gershon said the manager at the pub "and the company apologise wholeheartedly to the lady and her family".
The company had offered the family a £50 gift card.
"This is a horrible incident and obviously shouldn't happen - [they] shouldn't have had to go through the trauma of having an HIV test at the hospital," he added.
Kat Smithson, director of policy and campaigns at the National AIDS Trust charity, said: "There have been no cases anywhere in the world of somebody contracting HIV through a needle stick injury from a needle discarded in a public place.
"The problem of discarded needles is a concern for many people who would like public places to be safe and pleasant, particularly for children."