Liverpool mayor: Rough sleepers should be protected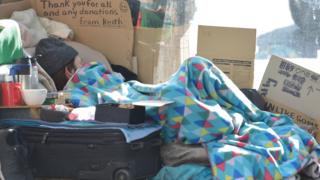 Attacks on people sleeping rough should be treated as hate crimes, the Liverpool mayor has said.
Joe Anderson said rough sleepers should be a "protected category" in a letter to the home secretary after a review of hate crime laws was recently announced.
It would send the message that the attacks "will never be tolerated".
Homeless charity Crisis said "changing the label... is not the answer", adding it was more important that victims feel they can ask authorities for support.
Writing to Home Secretary Sajid Javid, Mr Anderson said people who sleep rough "face ongoing risks above and beyond most other groups".
He cited Crisis findings from 2016, which said nearly a third of those surveyed said they had been deliberately hit or had faced other types of violence.
About 45% said they had been intimidated or threatened while 7% had been urinated on.
You may also be interested in:
"The reasons why people sleep on our streets are often complex," Mr Anderson said, "with mental health issues playing a large part, in many cases."
He added: "Although my city is famed for its generosity and solidarity, I believe the message should go out nationally that abusing or attacking a rough sleeper will never be tolerated."
Matt Downie, head of policy and external affairs at Crisis, said: "Changing the label of these appalling incidences of violence and abuse is not the answer.
"What matters most is that the victims of these disproportionately frequent attacks feel able to approach the authorities for support.
"Ultimately, they must also be given the dedicated help to leave the streets behind for good."
In September, it was announced that the Law Commission would review from 2019 which categories, such as gender, age and disabilities, should receive more protection in criminal law.
Last week Home Secretary Sajid Javid said the commission's review would be wide-ranging, and would explore whether current legislation was effective.