HMP Liverpool: Second prisoner dies in three weeks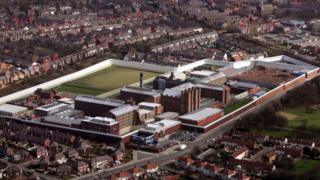 An investigation has begun after a second prisoner died in three weeks at HMP Liverpool.
Ian Galtress, 47, was found dead at the jail on Sunday and follows the death of 36-year-old Paul Jones on 26 September.
A HMP Liverpool spokesperson said: "As with all deaths in custody there will be an independent investigation by the Prisons and Probation Ombudsman."
In January, a former inspector described it "Britain's worst jail".
Rats and cockroaches were rife, with one area of the jail so dirty, infested and hazardous it could not be cleaned, the BBC revealed in December last year..
During an unannounced visit last September, prison inspectors found inmates living in "squalid conditions" with exposed electrical wiring and filthy, leaking lavatories.
Their damning report blamed prison managers for an "abject failure… to offer a safe, decent and purposeful environment" with only a quarter of recommendations made by inspectors in 2015 having been fully achieved.
The former governor, Peter Francis, was removed within days of the inspection, and a former officer at the jail, Pia Sinha, was appointed as his replacement.
The mother of another prisoner who killed himself at the prison in February said her son was "treated like an animal".
Tony Paine, 35, died in hospital after being found in his cell and became the third inmate to have died by suicide at the jail since the damning inspection.
"It should never have happened and it will continue to happen until something is done about that place," said Janet Paine.
Before 2018, there were at least 17 suicides at the Liverpool prison, one of the highest figures in England.
Healthcare staff told the BBC in January pressures in the unit had contributed to at least three deaths, and the inspection report said staff shortages had had a negative impact on all aspects of health services.
Since cuts to the prison service under the coalition government, there has been an increase in suicides, self-harm, violence and assaults within prisons in the UK.
The Ministry of Justice (MoJ) is in the process of hiring 2,500 new prison officers by next summer.
The recent deaths of two other prisoners at HMP Risley, near Warrington, are also being investigated by the prisons ombudsman.
Paul Degg, 46, and Thomas Lawrence, 27, died on 29 September and 12 October respectively, an MoJ spokesman confirmed.