Rimrose Valley: Protest held against £250m bypass plans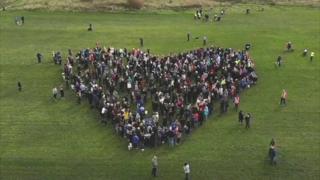 Hundreds of people have protested against a plan for a £250m bypass through a country park in Merseyside.
Highways England wants to build the road through Rimrose Valley in Litherland to reduce congestion.
Stuart Bennett, of the Friends of Rimrose Valley, said campaigners wanted to "show Highways England how much people love this space".
A judicial review was granted in February after Sefton Council complained about the consultation.
The council said the agency failed to consult on an option to build a tunnel beneath the park, which stretches between Crosby and Litherland.
But Highways England said a tunnel would cost £1.5bn and was not a "viable option".
It has previously said the proposed bypass would deliver "vital investment" for the region.
Mr Bennett called the public consultation "a joke".
"Highways England needs to go back, do its own work and come back with some sensible solutions - a bigger budget because what they're looking to do is on the cheap."
Mr Bennett said: "If you compare it to schemes in the South, which have billions of pounds spent on tunnels and sympathetic solutions - we're just asking for a fair crack of the whip and some of that money too."