Liverpool FC's revised Anfield concerts plan approved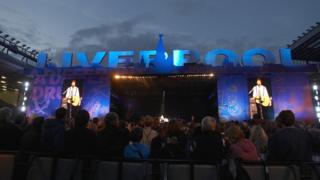 Revised plans to host up to six concerts and other events at Liverpool FC's Anfield stadium have been approved.
The club was forced to amend the plans amid concerns about parking, noise and anti-social behaviour.
It reduced the number of events it intended to put on to six per year, and promised to appoint a residents' liaison officer and pay for CCTV.
Councillors approved a temporary two-year licence.
The licence will allow the events to take place outside the football season, during a six-week period between mid May and the end of June.
The concerts would cater for up to 50,000 fans, which is lower than the match day attendance, but other events such as boxing may have a capacity of up to 60,000.
A second application to host extra sporting events on dates outside the regular football calendar was rejected in August.
Objections to the original proposals included the impact extended use at the end of the season would have for local residents.
The council planning committee said the temporary licence was granted to allow for "the effectiveness of the event management plan" and "liaison strategy" to be assessed.
However, councillor Ros Groves earlier called for plans to be rejected, claiming residents already suffered enough disruption on match days.
"On match days we are trapped like rats," she said.
Councillor Jane Corbett said trust between the club and local residents had "completely broken down" and called for a six-month pause on the plans.Andy Hughes, LFC chief operating officer insisted the club has listened to residents concerns.
Liverpool FC said a "transport strategy" similar to that used for match days will be in place during the events, with coach parks and special bus services.
The club also said it would donate any profits from car parking to a community fund.