'Violent' Chester robber knocked out woman to steal cab fare home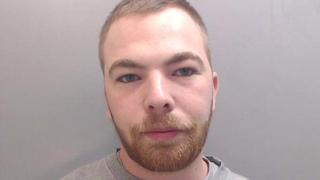 A man who attacked a woman, stole £50 for a kebab and cab home and left her lying in the street, covered in blood and unconscious, has been jailed.
Jack Edmonds, 21 and of no fixed abode, admitted robbing the 37-year-old after they left a Chester pub at about 23:40 BST on 15 July, Cheshire Police said.
Edmonds, who knocked out one of the woman's teeth in the attack, was later found in a taxi bound for Rock Ferry.
He was jailed for three years five months at Chester Crown Court.
A police spokesman said when the woman came round, she found she had also suffered cuts to her face and "upset and in pain, she knocked on nearby houses and asked them to call the police before being taken to hospital by ambulance".
He added that when officers intercepted Edmonds, he had £5 of the victim's cash left, having paid £40 for the taxi and spent £5 on a kebab.
Det Con Tom Philpotts said that with "only the thought of money on his mind, Edmonds didn't hesitate when carrying out his violent attack".
"He left her unconscious on the floor and then scared and upset when she woke to find herself covered in blood," he said.
"I hope Edmonds admitting his guilt will help the victim to move on from this."