Royal Liverpool Hospital 'not ready until 2020'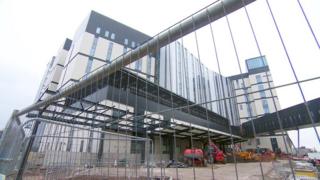 The new Royal Liverpool Hospital will not be finished until at least the middle of 2020, health bosses have admitted.
Work on the £335m hospital stalled in February after the collapse of construction giant Carillion.
It has since emerged unsafe cladding must be replaced and beams repaired, causing further delays.
Chief Executive Aiden Kehoe said completion would take "about 18 months" but first requires "rescue" funding.
The under-construction hospital is already more than year behind schedule, and was originally set to open in March 2017.
Mr Kehoe added that the spiralling cost of fixing problems left by Carillion, which also includes repairs on beams in the structure, would be "a significant amount of money."
"We don't have to knock anything down but there are some significant works to be done," he said.
On Wednesday Louise Ellman, Labour & Co-operative MP for Liverpool Riverside, said the cladding problem, caused by some of the current material not meeting meet fire safety regulations, could jeopardise negotiations with new contractors.
And speaking at the Royal trust's annual general meeting on Thursday, Mr Kehoe confirmed the hospital's current funders "are considering their position".
He said: "We've got some very intensive discussions going on, but one way or another over the next few weeks I would hope we will have a definitive way forward.
"If we can agree a rescue package over the next few weeks then building work can start again quite quickly, because the funders and the hospital company who have the legal responsibility for building it have been talking to a contractor about potentially coming in.
"If we can't agree a rescue package it will be longer than that because we potentially might have to go to full public procurement.
"That in itself could take a long period of time before we even start building."
He said that was "the situation the Midland Metropolitan hospital is in" in a reference to the West Midlands hospital also stalled by Carillion's collapse.
That hospital in Smethwick was left two-thirds finished but the government has pledged £300m towards completing it. It is unclear, however, when work will resume.
Asked whether the government could help fund the Royal's remaining building, Mr Kehoe said: "The preferred option - because of the speed we can get the hospital completed - is to try and get a deal done with the existing funders.
"If that can't be done then there are a range of other options that would include support from the government."