Southport pedestrians jump to avoid speeding train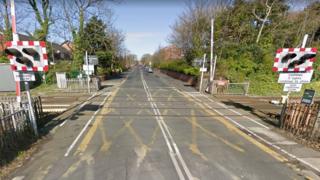 Three people had to dive away from the path of a speeding train after walking on to a level crossing while the barriers were closed.
The driver of a train travelling towards Southport in Merseyside had to apply the emergency brake during the incident in Birkdale.
Network Rail said the pedestrians had to "jump back" to avoid being hit in the "shocking" 31 August incident.
Train operators have warned people to be "vigilant at all times".
The three people had appeared from behind a passing train going in the other direction on the opposite track, Network Rail said.
Lucy Chadderton, Network Rail's level crossing manager, said there is a "very good reason" why barriers are closed, and often this is because a second train will pass in the opposite direction.
She added: "Just because one track is clear doesn't guarantee the other track is too.
"So please wait until the barriers lift before crossing."