Royal Liverpool Hospital: £335m building has 'unsafe cladding'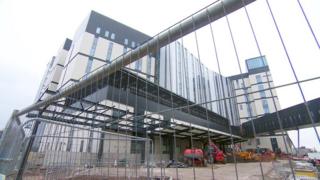 The new Royal Liverpool Hospital was built with unsafe cladding that does not meet fire safety regulations, health bosses have revealed.
Work on the £335m hospital stalled in February after the collapse of construction giant Carillion.
Carillion said the building complied with fire regulations but this was "not the case" with some cladding, the Royal Liverpool Hospital Trust confirmed.
Chief Executive Aiden Kehoe said it must be replaced "at additional cost."
Mr Kehoe said the cladding problem had only recently come to light, in part due to new building standards following the Grenfell Tower tragedy.
"There has been added complexity in reaching an estimate of the costs to complete the new Royal, as a result of remedial work required to correct faults created by Carillion,' said a trust spokesman.
"Before they entered into liquidation, the trust sought assurances from Carillion about this cladding and they told us that there are a number of different cladding systems utilised, all of which have been specified and installed to meet the required standards of fire safety.
"The recent review has found this not to be the case with some parts of the cladding."
Addressing a health committee meeting, Mr Kehoe added that although the cladding was different to that which caused the rapid spread of the Grenfell fire, it would still need to be replaced with "non-combustible material."
He added that although the cost of completing the new building had "escalated" he was hopeful a deal could be reached within the next few weeks, the Local Democracy Reporter Service said.
The committee also heard that the trust was moving forward with design solutions to other structural defects left behind by Carillion, including cracks in the beams of the building.
Louise Ellman, Labour & Co-operative MP for Liverpool Riverside, said the cladding problem could jeopardise negotiations with new contractors.
"I've been to see the health minister Stephen Barclay about it today and told him I'm increasingly concerned about the delay in completing the new Royal and he assured me the Government wants to see it finished swiftly.
"The people of Liverpool want their new hospital and don't want to debate whose fault it was. They want something done about it.
"There are negotiations ongoing with potential new contractors and these additional costs could jeopardise them. The Government have to take responsibility."
---
Analysis
Claire Hamilton, BBC Radio Merseyside political reporter
This time last year, the new hospital seemed within reach, its doors almost ready to be opened to patients.
Yet, months after the collapse of Carillion and an apparent stalemate over how and when work will start again, the site is empty. The cladding revelation is the latest setback in the saga.
Local MPs have repeatedly demanded answers from ministers in parliament, but haven't managed to elicit any promises of financial help.
Today's developments will add to the cost of the rebuild, and of course yet more unwanted delays.