Merseyside Police 'failing' to check on sex offenders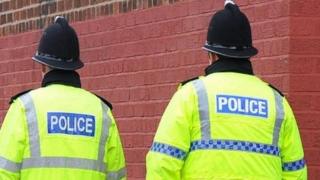 High-risk sex offenders are not checked on enough by Merseyside Police and their locations are often unknown by officers, the police watchdog says.
HM Inspectorate of Constabulary and Fire & Rescue Services (HMICFRS) said the force's sex offender unit, which is also responsible for child protection, was "seriously overstretched".
The inspection of its child protection highlighted "particular concern" with 98 overdue visits to sex offenders.
The force says it is addressing issues.
The HMICFRS inspection, held in April and May, cited "heavy workloads and poor communication" as the reasons why the force was struggling to manage the threat posed by high-risk sex offenders.
Sex offenders in Merseyside
There are 2,256 registered sex offenders living in the region
1,769 are being managed within the community
Of those, 277 were graded as high risk and six as very high risk
Figures by HMICFRS
The watchdog found the ratio of registered sex offenders to each manager was approximately 100:1 - double what it considers reasonable - and created "potential additional risk".
'Unaware of offenders'
Inspector Matt Parr said managers in the unit were "too often... playing catch-up and couldn't prioritise preventative work".
He added that neighbourhood policing teams were often "unaware of sex offenders living in their communities".
"This area requires real improvement before I can be confident Merseyside Police is meeting its duty to keep children safe," he said.
Other concerns highlighted in the report included that performance measures are currently based on the number of child protection incidents and cases, rather than outcomes for victims.
Although Mr Parr said there was "still plenty of room for improvement" he said other areas showed good practice.
"The force carries out investigations to a good standard and uses police protection powers appropriately to safeguard children.
"I am reassured by Merseyside Police's recent efforts to do more to make sure every child is safe from harm, and I look forward to seeing its next steps."
'Determined to improve'
Merseyside Police - which has a workforce of more than 5,700 serving a population of 1.4 million - has six weeks to respond with an action plan on the 19 recommendations for improvements before another inspection within six months.
Assistant Chief Constable Serena Kennedy said: "Protecting children, especially those who are most vulnerable, is one of the most important things we do... and we are determined to improve."
She said a self-assessment carried out by the force before the inspection identified the majority of issues highlighted in the report and work to address these issues was already underway.
"We recognise the importance of managing sex offenders appropriately and continually review our policies, processes and training given to staff."
She said the number of sex offenders had doubled since 2009 and that despite a 25% decrease in the number of police officers since 2011, the force had not cut any posts from the sex offender unit to deal with increasing work demand.
Last year HMIC inspectors found Merseyside Police failed to properly record tens of thousands of offences, including rape and violent crimes.