Liverpool councillor quits Labour Party amid bullying claims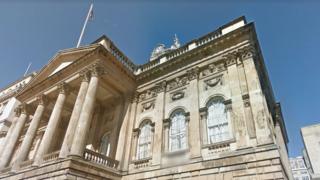 A councillor has quit the Labour Party in Liverpool after claiming she was bullied by a fellow politician.
Kay Davies, who represents County Ward, announced her departure on Twitter and said there was "no support for bullying victims" in the party.
She accused fellow ward councillor Gerard Woodhouse of having links to a Twitter account which had targeted her with online abuse.
The Labour Party said it takes bullying complaints "extremely seriously".
Mr Woodhouse was suspended from the party in July after a recording emerged in which he was alleged to have used obscene language to describe her.
Ms Davies also complained about the Twitter account @county_truth, which she alleged was linked to Mr Woodhouse and had made unpleasant comments about her weight, appearance and family.
Twitter investigated both the County Truth account and Gerard Woodhouse's account and suspended the former.
Mr Woodhouse was not available for comment.
However, writing on Facebook he posted an apology from Twitter, confirming they had reinstated his account following the investigation.
The social media company's post read: "We have restored your account and apologise for any inconvenience.
"Twitter takes reports of violations of the Twitter Rules very seriously. After reviewing your account it looks like we made an error."
Mr Woodhouse posted: "After being blamed for setting up a blag account, hope this answers the trouble makers."
Ms Davies claimed members "get away with lying" and the party was in "turmoil."
She claimed she had no support from the local Labour Party throughout.
'Links only alleged'
She said: "They were telling me his links to this account were only alleged, that I should not speak out on social media or share with residents what was going on."
Ms Davies said she would remain as an independent councillor.
She added: "It's a shame. This isn't the Labour Party I joined."
Wavertree councillor Clare McIntrye, who was found to have suffered "unacceptable harassment" earlier this year, backed Ms Davies' comments and said bullying and harassment was "endemic".
Ms Davies was also supported by Labour member Michelle Langan, who tweeted: "How many female politicians will the party lose due to bullying from men before action is taken?"
A North West Labour Party spokeswoman said all complaints of bullying and harassment were fully investigated.