New Ferry group set for first meeting with communities secretary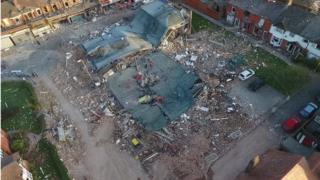 People affected by a blast that injured 31 people are set to have their first meeting with the communities secretary after a "frustrating" wait.
Two people were seriously hurt in New Ferry, Merseyside on 25 March 2017.
Local trader Marion Ridewood said the town "needs more help" from government. A government spokesman said it took the matter "extremely seriously".
Pascal Blasio, the owner of a shop on the site, has been charged with causing an explosion likely to endanger life.
Contract Natural Gas Limited, based in Yorkshire, has also been charged with failing to discharge general health and safety duty to a person other than an employee.
More than 100 people were temporarily evacuated following the blast, which affected 25 homes and four businesses.
In July 2017, the government was criticised after communities minister Jake Berry wrote that the explosion did not meet the threshold for government funding of emergency recovery costs.
He said costs for an incident of this "size and impact" should be covered by "local resources".
Wirral Council said at the time that it had spent about £300,000 on the recovery effort.
'Forgotten disaster'
Ms Ridewood, who works at one of the few shops that stayed open after the blast, said many local people were "still very angry".
"It's a forgotten disaster and it seems to have disappeared in the minds of many people so the frustration is that we're not going get any help.
She said a meeting would be held with James Brokenshire, who became communities secretary in April, in London on 5 September.
"I am hoping that the new communities secretary has a very positive view of the situation that New Ferry is in - that it needs more help than an ordinary town."
A spokesman from the Ministry of Housing, Communities and Local Government said: "We take the New Ferry explosion extremely seriously and communities minister Jake Berry visited New Ferry in July last year to hear first-hand how people and businesses have been affected."
He said the government was "committed to providing long-term investment".