Liverpool Lime Street station reopens after £140m refit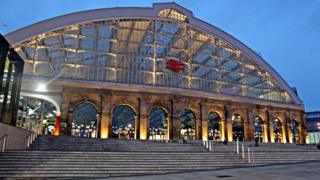 Liverpool's Lime Street station has reopened after an eight-week £140m refit to allow for equipment upgrades.
The closure was part of a £340m Network Rail (NR) investment in the Liverpool City Region.
The station's new platforms, track and signalling would bring "faster, more frequent and more reliable services," an NR spokesman said.
He added that NR was "confident" the reopening would run smoothly with a "good service".
The improvements mean there will be an extra three services in and out of the station every hour, with new direct services to Scotland.
The spokesman said the new platforms would be longer, straighter and safer and would be able to accommodate larger trains and more passengers.
He said the work had been essential due to a forecasted growth in the number of travellers using the station over the coming years.
Nearly 20 million passengers pass through Liverpool Lime Street every year.
Director Patrick Cawley said train operators had "done a really good job of getting their drivers and crews ready to understand the new infrastructure, so we're confident we'll have a good service when we open".
Additional work at Lime Street will take place on 2 September before the transformation is completed in October.
The NR spokesman said it was hoped the work would be finished before thousands of visitors arrive in the city to see the Giants on their return to Liverpool in October.