New Liverpool Waterfront car park planned after fire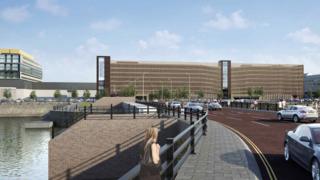 A new multi-storey car park is to be built following a huge fire that destroyed hundreds of cars.
The blaze engulfed Liverpool Waterfront car park, at the Arena and Convention Centre (ACC) Liverpool, destroying about 1,300 vehicles on New Year's Eve.
The city council has now submitted an outline planning application for a 1,650-space facility to replace the 1,400-space car park on Kings Dock.
The £26m cost would be funded by the council and insurance payouts.
The new nine-floor car park, at Monarch's Quay, would service the ACC Liverpool complex, which includes the Echo Arena, BT Convention centre and Exhibition Centre Liverpool.
It would be fitted with CCTV, electric charging points and a sprinkler system.
Subject to planning approval, the new car park will be built in front of the Exhibition Centre and is planned for completion by Christmas 2019.
The Liverpool Echo Arena had been hosting the Liverpool International Horse Show when the fire broke out on New Year's Eve, leaving hundreds of people stranded overnight.