Suspended Cheshire chief constable 'aggressive bully'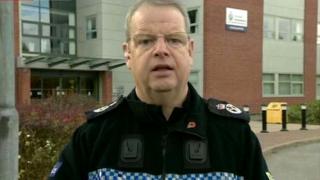 A "bully" chief constable became aggressive and angry with officers after flooding made him late for work, a misconduct hearing has been told.
Simon Byrne, who was suspended as chief constable of Cheshire Constabulary last year, is accused of bullying and humiliating staff.
He denies the allegations, which date from between May 2014 and March 2017.
The hearing at Warrington Town Hall was told he was "unable to contain personal emotion".
Allegations, detailed in an opening note submitted to the hearing on Monday on behalf of the office of Police and Crime Commissioner David Keane, include that Mr Byrne became aggressive with officers after flooding made him late for work and his son late for school.
In a statement, Inspector Kate Buckingham said Mr Byrne summoned eight officers of inspector rank or above to a meeting to discuss the force's management of flooding incidents.
She said: "Prior to the meeting the chief constable had required me to print off several pictures depicting fictional comedy characters from the... TV series Dad's Army.
"The chief constable presented each of the officers present with the said pictures.
"During the meeting the chief constable was physically shaking and was bright red in his face. I had never seen a colleague become so angry, aggressive and unable to contain personal emotion."
Mr Byrne, who previously worked for the Metropolitan Police, as well as the Greater Manchester and Merseyside forces, is accused of gross misconduct for breaching standards of professional behaviour.
John Beggs QC, representing the PCC's office, said: "Mr Byrne, when chief constable of Cheshire, lacked self control on a personal level and exhibited volatile, unpredictable and sometimes offensive behaviour towards subordinate officers and staff."
He said: "He would berate them on occasions. He was demeaning in words and behaviour. In short, he humiliated people and became a bully".
Giving evidence, acting chief constable Janette McCormick said she never witnessed Mr Byrne shouting at or humiliating staff.
Mr Byrne denies the allegations and the hearing continues.