Gunman jailed for Southport Christmas street shooting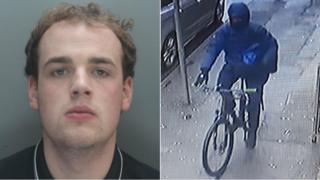 A gunman who chased a man he was feuding with through a seaside resort and shot him in the head in front of Christmas shoppers has been jailed.
Jamie Bridge, 22, of Wyersdale Road in Aintree, admitted wounding Christopher Jopson in Southport in December, but had denied attempted murder.
Liverpool Crown Court heard chasing Mr Jopson with a sawn-off shotgun proved Bridge, who had been on licence from prison, had the "intention to kill".
He was sentenced to 24 years in prison.
He was also ordered to serve 16 years concurrently for possession of a firearm with intent to endanger life and a further five years on licence upon release.
Bridge was caught on CCTV cycling in and out of Southport before and after the attack with a bag under his arm.
'Sheer recklessness'
His trial heard there had been an "escalating feud" between Mr Jopson and Bridge, who was on licence for drug offences and possession of an offensive weapon at the time, the Crown Prosecution Service said.
The court was told that at about 12:30 on 21 December a chase began across the town centre which was "thronged with vehicles and pedestrians; shoppers going about their last-minute Christmas shopping".
Witnesses described the 22-year-old taking aim on Eastbank Street before firing the shot which also injured Lee Armstrong who was standing at a bus stop waiting to start work.
Mr Jopson, who had 27 pieces of shot lodged in his scalp and three embedded in his skull, told the court he had "thought the gun was fake, but that I'd better run in case it wasn't".
Speaking after the hearing, Det Insp Andy McCourt said the attack was "appalling" and "the impact on everyone in the town involved in this incident has clearly been significant".
"The sheer recklessness of Bridge's actions cannot be overestimated.
"It is by sheer good fortune that nobody [was] killed, and to see Bridge taken off the streets for the foreseeable future is to be welcomed."