Man, 72, charged after boy attacked by dog in Speke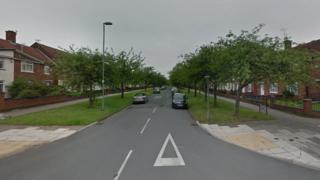 A 72-year-old man has been charged after a boy was bitten by a dog in a "horrific" attack.
The 11-year-old was left with injuries to his head and body after the dog mauled him in Stapleton Avenue, Speke, on Sunday afternoon.
He was taken to hospital where his injuries are not thought to be life-threatening.
Fredrick Farnsworth is accused of two counts of having a dog dangerously out of control causing injury.
Mr Farnsworth, of Stapleton Avenue, is charged under the Dangerous Dogs Act and is due to appear at Liverpool Magistrates' Court on Tuesday.
Eyewitness Gary Gaze, who went to help the victim, said: "I heard screams and I said to my daughter, 'That doesn't sound right'."
"I looked round and saw two dogs mauling him. He was shouting, 'Get them off me, get them off me'."
Mr Gaze helped the boy down from a climbing frame before he fled to safety.
"The dogs had torn strips out of him," said Mr Gaze.
A second boy, aged 12, suffered minor injuries in the attack and was taken to hospital for treatment.