Sir Paul McCartney plays Beatles and Wings hits to pub crowd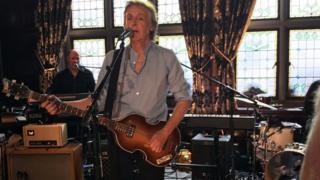 Sir Paul McCartney has come together with fans for a surprise show at a pub while filming in Liverpool.
The former Beatles star was a day tripper to his home city on Saturday to record with James Corden for the Late Late Show presenter's Carpool Karaoke.
After going here, there and everywhere, Sir Paul took the chance to get back to what he does best with a show for about 50 fans at The Philharmonic pub.
Sean Kennedy, who was at the show, tweeted his life was now "complete".
Earlier in the day, the pair were seen driving their car on Allerton Road, posing for pictures with The Beatles statue at the Pier Head and walking on Penny Lane.
When word started to spread that Sir Paul would be performing in the city, crowds began gathering outside the pub as fans tried to see something of their hero.
You may also like:
The set included some of his greatest hits, including both Beatles and Wings tunes, a couple of new songs and a duet with Corden, according to reports.
He also sang Birthday for one starstruck fan who was celebrating her 60th.
Audience member Daniel Smith told BBC Radio 6 Music's Mary Ann Hobbs the "atmosphere was amazing".
He said after hearing about the gig, he "jumped on the bus, hoping to catch him on his way out".
Having managed to get inside, he said he "started shaking, because I couldn't believe it was Paul McCartney stood a metre in front of me".
He added that Sir Paul's renditions of Lady Madonna and Back In The U.S.S.R had been particular highlights.
Twitter user Mike, who shared photos of the show, wrote that his head had "fallen off" as a result of the show, which "absolutely made my life".