Teddy Tilston murder: 'No opportunities missed by public services'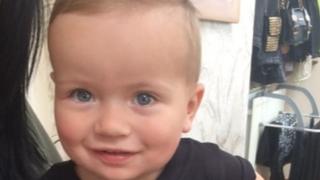 The abuse suffered by a toddler murdered by his mother's partner could not have been foreseen or prevented, a serious case review has found.
Craig Smith was jailed for life in November 2017 for murdering two-year-old Teddy Tilston.
Teddy's mother, Ashleigh Willett, of Birkenhead, was also convicted of child cruelty.
The review found that "no opportunities were missed" by public services as the family was deemed to be "doing well".
Smith, who was 28 at the time of sentencing at Liverpool Crown Court, was ordered to serve a minimum of 17 years after he was found to have beaten the toddler to death and inflicted injuries on his twin sister.
Smith claimed the toddler drowned in the bath, despite being completely dry when ambulance staff saw him.
Willett, who was 25 at the time of her sentencing, was given 12 months in prison, suspended for two years, in December 2017 for failing to seek medical assistance for Teddy.
Teddy was found to have had 65 "unusual" external injuries, and "catastrophic" internal bleeding in his abdomen, the Local Democracy Reporting Service reported.
'Beyond heartbreaking'
Dr Maggie Atkinson, chair of Wirral's Safeguarding Children Board, said it was "a deeply tragic situation".
But she said there was "no history of abuse or neglect" with the family.
"The review of this case found that the children and the family were not known to local services and that based on the information available at the time, there was no evidence that chances to intervene were missed," Dr Atkinson said.
She said the emergency services and healthcare staff involved "as this awful tragedy unfolded" responded with "great professionalism".
"Fundamentally, the review found there were no opportunities missed and it was not possible that professionals could reasonably have foreseen or prevented the abuse suffered by Child I or Child J," she added.
Wirral council's cabinet member for children and families, Bernie Mooney, said: "This is a case which is beyond heartbreaking."
On Thursday, it was revealed Smith, who lived with Willett at their family home in Woodville Road, Birkenhead, failed to convince senior judges his trial was unfair.