Drivers urged to seek 'illegal' Mersey Gateway toll refunds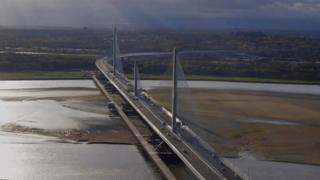 Motorists who paid to cross a £600m bridge are entitled to refunds on "illegal" charges and fines, according to a lawyer.
A tribunal has ruled that drivers were not fully made aware of the toll for the Mersey Gateway.
"Celebrity" lawyer Nick Freeman said drivers who had used the bridge before 19 April should seek a reimbursement.
The bridge's operator said it was disappointed and would discuss its next step with lawyers.
The bridge, linking Runcorn and Widnes, opened in October charging £2 for cars and in the first three months had raised £15m in tolls and fines.
Inadequate signage
In a 23-page ruling published on Friday, the Traffic Penalty Tribunal upheld the decision of an April test case, which a council had rejected.
Adjudicator Edward Solomons judged signage at the crossing was inadequate in the case of four drivers who had challenged their fines, while a fifth driver was unfairly charged after becoming lost.
Mr Solomons reinforced the finding of the original hearing that prices were not set out specifically in public notices.
Mr Freeman - who is nicknamed Mr Loophole - said: "Everybody who has been fined or paid to cross the bridge before 19 April should submit an itemised claim to Halton Borough Council.
"It will be up to drivers to do their homework and prove when they crossed and how many times."
Claire Hamilton, Merseyside political reporter
The tolls on the Mersey Gateway have been controversial from the start, and thousands of motorists will be closely watching this saga unfold.
The Transport Penalty Tribunal rarely holds reviews in public, let alone one preceded by a demonstration complete with banners and flags.
The complexity and public interest in the case prompted the hearing to be open to public scrutiny, shining a light on the intricacies of the law relating to traffic fines.
Halton Council has defended its introduction of the tolls and may still push for a judicial review on today's decision.
But the ruling that a procedural error was made in establishing the Road Users Charging Scheme Order may well turn out to be a costly mistake.
A new charging order came into effect on 19 April after the council revised public notices in light of the legal challenge.
A spokesman for the council's "arm's-length" bridge operator, Mersey Gateway Crossings Board, stressed the new charging order was effective, and drivers who failed to pay risked a penalty.
As of February 2018, Halton Council had issued 242,690 £20 penalty charges which were automatically generated if drivers failed to pay the toll online, over the phone or by buying a ticket at retailers.