University of Chester urged to pull out of academy schools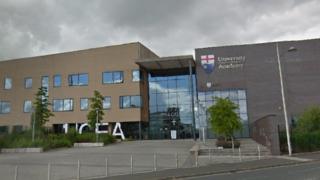 A university should pull out of running academy schools because of a "record of repeated failure", a group of local MPs has said.
Four MPs in Cheshire and Staffordshire have written to the University of Chester after an academy trust it owns announced staff cuts due to a £3m deficit.
They want the trust to "voluntarily cede control" of seven schools.
The academy trust said the request was "disappointing".
A University of Chester Academies Trust (UCAT) spokesperson said: "The reality is that children and young people studying at schools inherited by UCAT, most of which were in challenging circumstances to begin with, have been given opportunities that they would not otherwise have had."
The Labour MPs' letter, seen by the BBC, says this week's news that UCAT is to make 41 teachers and support staff redundant was "the final straw".
'No confidence'
Trust chief executive David Cumberland wrote to staff last Friday to warn "very low pupil numbers" meant the current trust structure was "not viable".
The trust has accepted emergency government funding and announced it intends to offload four of its academy schools, but keep control of three.
It runs seven secondary and primary schools in Ellesmere Port, Warrington, Chester and Northwich in Cheshire and Kidsgrove in Staffordshire.
The MPs' letter to the university's vice chancellor Tim Wheeler says: "We no longer have confidence in the university having any involvement in our schools.
"The trust's track record does not indicate that it will be able to improve standards across the board and the recent financial reports suggest that you do not have the capacity or resources to address this.
"The children in our constituencies deserve a better standard of education than you are able to deliver."
'Amazing teachers'
The letter is signed by Ellesmere Port MP Justin Madders, Weaver Vale MP Mike Amesbury, Chester MP Chris Matheson and Stoke-on-Trent North MP Ruth Smeeth, who all have trust schools in their constituencies.
Parent Jeanette Starkey, who has three children at the University Church of England Academy in Ellesmere Port, said: "There are some amazing teachers there it's just the management of it.
"The teachers have shackles on them but they can't do their job properly because they're always having to abide by rules which are always changing."
The progress of pupils in the trust's four secondary schools is "well below average", according to league table data.
The trust said its financial situation was "shared with almost half of all multi-academy trusts" and said a declining population in catchment areas was one reason pupil numbers were falling.