Cheshire academy chain has £3m deficit and tries to offload four schools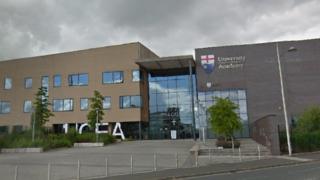 A trust running seven academies is cutting staff and trying to offload four schools due to a £3m deficit.
The University of Chester Academies Trust, which operates in Cheshire and Staffordshire, said "vey low" pupil numbers meant its current structure was "not viable".
A spokesperson told the BBC it was "working towards financial health" and "committed to providing the best educational experience" for pupils.
Unison said the trust was in "crisis".
The trust is to begin official consultations to cut 19 full-time teaching posts and 22 support roles across its schools.
The Education and Skills Funding Agency has provided the trust with emergency funding and issued a "financial notice to improve", which restricts its spending powers.
Spokesman Mike Pettifer said he was "concerned" about the "weak financial position and financial management at the trust".
'Reduced staffing levels'
In a letter to staff, trust chief executive David Cumberland wrote: "As a result of the very low numbers we currently have in the trust we are now in a position of significant financial deficit."
He said the trust was in "ongoing discussions" to offload four schools to new operators - University of Chester Academy Northwich, University Primary Academy Weaverham, University Academy Kidsgrove and University Primary Academy Kidsgrove.
Mr Cumberland wrote that while some potential operators had already undertaken due diligence, no proposals "had yet come to fruition".
The trust intends to keep control of the University Church of England Academy in Ellesmere Port, University Academy Warrington and the University Church Free School in Chester.
Keith Bradley, of Unison in the North West, said: "University of Chester Academies Trust has slowly reduced staffing levels and have had financial difficulties over a number of years.
"The decision by (the trust) will only reinforce the funding deficit in the academy programme and will further damage the amount of transparency and accountability in local education."