NHS in winter: Sharp rise in North West hospitals put on highest alert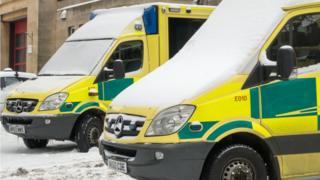 Hospitals in the North West of England were placed on the highest level of alert 32 times during the winter of 2017-18, the BBC has learned.
Trusts only declared two such "Opel 4" alerts, signalling patient safety could be compromised, in 2016-17.
All 32 alerts were declared in Cheshire and Merseyside, according to Freedom of Information request responses.
NHS England said "prolonged bad weather" and "a rise in the severity of illness" had put trusts under pressure.
The Operational Pressures Escalation Levels (Opel) Framework aims to bring consistency nationally in times of pressure.
Opel alerts, which can be declared for as short as a few hours, flag up pressure on the health system.
The figures also showed a 418% increase in the number of Opel 3 alerts - from 206 in 2016-17 to 1,067 in the winter just ended.
Opel 3 alerts indicate there is "major pressure" requiring "urgent action" by NHS managers.
Winter is defined by the NHS as running from the end of November to the beginning of March.
Marion Nash, from Fleetwood in Lancashire, waited more than five hours at Blackpool Victoria A&E after fracturing her spine in March.
She said it was "absolute chaos" and there were "no beds, people just in corridors".
She added that staff were "absolutely run off their feet", but it was not their fault as "there just isn't enough staff and not enough beds".
More nurses needed
Rob Cooper, director of operations and performance at St Helens and Knowsley Teaching Hospitals Trust, said the "whole health system is struggling".
He said there is "an issue around actually filling primary care vacancies" in the area, which "puts that additional demand on the GPs".
The hospital has set up a joint command team with the ambulance service, GPs, and community and social services.
This has prompted the NHS to use it as a model for good practice.
However, the vice president of the Royal College of Emergency Medicine, Chris Moulton, said there was a need for fundamental change.
"Social care is the big one, in order to allow us to discharge people from hospital in a timely way.
"Acute beds in the hospital is the next thing, so we've got flexibility to move people around.
"And the last big thing we need is the most difficult... it is more staff, in particular nursing staff."
---
Analysis - Gill Dummigan, BBC North West health correspondent
A&E departments can be seen as a barometer which measures pressure levels in the NHS as a whole.
For relatively minor and many chronic conditions, the best place for patients to be seen is their local general practice.
But if it is full, and it's nigh-on impossible to get an appointment, the temptation to head straight to A&E is there.
We also have a rapidly ageing population, and it is a depressing fact of life that as we get older we tend to need more healthcare.
And when they're ready to come out of hospital, there is often a lack of support in the community.
This means there are fewer beds available on general wards and, in turn, patients remain longer in A&E beds.
This slows down the "throughput" of patients, if you like.
Until we find a system of better caring for older people, future crises within A&E units are likely.
---
A spokesman for NHS England said the region's hospitals "were under significant pressure" with "prolonged bad weather, high levels of respiratory illness, flu cases and a rise in the severity of illness among patients arriving at A&Es".
"The NHS National Emergency Pressures Panel... acted promptly to help hospitals free up beds and staff to be able to care for the sickest patients", he said, adding that more A&E patients were treated "within four hours compared with the previous year".