Mersey Gateway Bridge raises £2.7m in fines in less than four months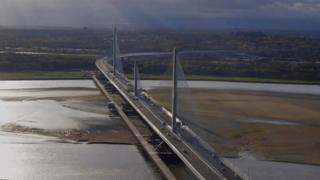 The Mersey Gateway Bridge generated nearly £2.8m in fines during its first three months.
Halton Borough Council made the money through Penalty Charge Notices (PCNs) issued to drivers who failed to pay the £2 toll from 14 October to 31 January.
In total, the new bridge raised £15m in revenue, according to data obtained through a Freedom of Information (FOI) request.
The FOI results were obtained by the Local Democracy Reporting Service.
The £2.775m made from fines represents 18.5% of the total cash raised.
Tweeting the findings, campaign group Scrap Mersey Tolls described the figure as "shocking" and speculated that after another three months of fines, the figure would now be much higher.
A group spokesperson: "Local politicians should be ashamed that they have inflicted such a widespread burden of financial misery."
Legality
Mersey Gateway fines are paid to Merseyflow and it is Halton Council who authorise them.
Last month, tolls on the bridge had to be clarified following a tribunal's findings over the legality of charges.
The Traffic Penalty Tribunal (TPT) found a driver was not liable to pay a toll as Halton Council had not specified the fee correctly.
The council was also found not to have given correct notice of charges on the Runcorn-to-Widnes crossing.
Halton Borough Council passed changes to the tolls, which clarify the cost for a car crossing the bridge.
In April the council said about 10 million vehicles had crossed the bridge since it opened in October and 250,000 penalty charge notices had been issued.
Operators estimated £1m of fines had been issued in the first month.
The council confirmed that the FOI figures were correct.