Chester and Wrexham in Channel 4 headquarters bid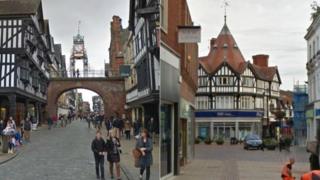 Chester and Wrexham have made a joint England-Wales bid to host Channel 4's new HQ, their councils and MPs have said.
The broadcaster is searching for a base and two other hubs outside of London and a host of cities have already bid.
Chester MP Chris Matheson said "our bid is immeasurably strengthened by joining forces with North Wales".
Wales First Minister Carwyn Jones said he supported the Wrexham bid as well as a previous bid by Cardiff.
Wrexham's Labour MP Ian Lucas said he wanted Channel 4 "to break the mould" by choosing the joint Welsh and English bid.
Chester and Wrexham are less than 12 miles apart.
Cheshire West and Chester Council leader Samantha Dixon pointed out that the city "is already closely linked" with Channel 4 thanks to its Hollyoaks soap.
She added: "The attractiveness of living in our region and the robust local infrastructure with links to the transport network will attract the best talent to working at Channel 4."
Wrexham Council leader Mark Pritchard said: "This is a tale of two nations - and two neighbouring councils - coming together to offer one of the UK's most innovative companies a unique opportunity."
Channel 4 officially opened the bidding on 15 April.
It is part of plans to put an extra £250m into its nations and regions spend by 2023.
Liverpool, Cardiff, Glasgow, Newcastle and Stoke-on-Trent have also launched bids.
The West Midlands Combined Authority (WMCA) has put forward Birmingham and Coventry.