Brick hurled through Liverpool Tory candidate's window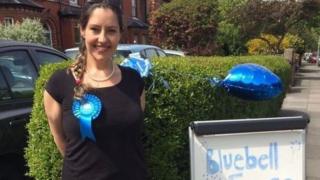 A senior Conservative Party candidate had a brick thrown through the window of her home while her baby daughter was in the room.
Jade Marsden, deputy chairman of Merseyside Conservatives, reported the incident to police on Sunday evening.
In a tweet which was later deleted, she said whoever had thrown the brick was "in serious trouble" and tagged Liverpool's Labour group.
However, she later said she had tagged the party only to "make them aware"
Merseyside Police confirmed officers had received a report of criminal damage at a home in Allerton, Liverpool.
Ms Marsden, who stood for election in Cressington in last week's local elections, said: "We had not long put the baby to bed when it happened.
"She just got a fright, but it's terrifying to think this can happen while you're just sitting in your own home."
The mother was criticised on social media by some people who said she had suggested a member of the Labour Party was behind the incident.
But Ms Marsden said: "I tweeted Labour to make them aware. The Lib Dems already know because I've been told it also happened to one of their Liverpool councillors on Friday.
"I've no idea who did it, it could have been anyone."
Police have appealed for anyone with information to contact them.