Underworld enforcer named as St Helens shooting victim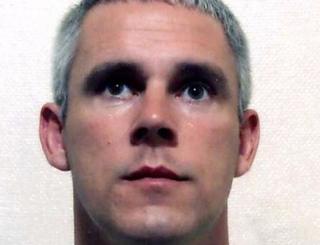 A man who was fatally shot near a motorway was an underworld enforcer, said to have saved former footballer Steven Gerrard from a gangster.
John Kinsella, 53, died on the St Helens Linkway near the M62 in Merseyside on Saturday morning.
Police believe his killer wore a high-visibility jacket and was on a mountain bike.
During a 2008 trial, Gerrard's father said in a letter that Kinsella stopped a gangster from threatening his son.
Paul Gerrard described Kinsella as a "fixer" who had intervened when the gangster, known as The Psycho, had threatened to shoot the former footballer in the legs in 2001.
Court escape
Kinsella, from Rainhill, was convicted of taking household goods in a raid at a haulage yard in Grantham, Lincolnshire in 2006.
Kinsella absconded from a 2008 trial by walking out of the court during a lunch break, he was arrested again 10 months later.
Merseyside Police said Kinsella was shot between 06:30 and 07:30 BST on Saturday and appealed for anyone with information to contact them.
They described the offender as slim, about 6ft (1.8m) tall and wearing dark clothes under the high-visibility jacket.