Man jailed for family murder at John Lennon's ex-flat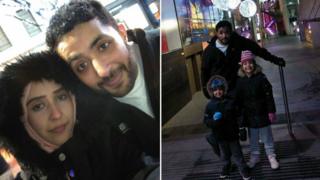 A man has been jailed for 31 years for suffocating his wife and drowning their two children at their flat in Liverpool where John Lennon once lived.
Sami Salem, 30, was found guilty on Thursday of murdering Arena Saeed and her children Shadia Salem, six, and Rami Saeed, four, on 30 May.
He had admitted killing them but on the grounds of diminished responsibility.
Mr Justice Holgate at Liverpool Crown Court said the children's deaths were "a gross abuse of trust".
The judge added: "The two children were particularly vulnerable victims because of their age and because they were defenceless."
He accepted Salem suffered from paranoid schizophrenia but did not suffer hallucinations or hear voices.
'Controlling behaviour'
The judge also said the illness had not affected Salem's ability to "understand the nature of his conduct at the time" and it was "difficult to identify a psychiatric explanation" for the murders.
Merseyside Police said neighbouring properties of the family's flat on Falkner Street, Toxteth, were evacuated as a precaution as Salem had poured 25 litres of petrol around the property and left the gas supply on after killing his family.
Det Ch Insp Cheryl Rhodes said: "The callous and methodical way Salem carried out these terrible murders will be incredibly shocking and upsetting.
"This is a truly tragic case with no winners, and it has been extremely difficult for both families as well as our investigating officers."
She said Merseyside Police acknowledged "medical assessments that Salem was suffering with paranoid schizophrenia" but she also said his "controlling and coercive behaviour" was a form of domestic abuse.
The property in the Georgian Quarter is regularly visited by Beatles fans on tours of the city.
The flat was once owned by the band's manager, Brian Epstein, and Lennon lived there with his first wife Cynthia shortly after they married in 1962.