Traffic ban plans for Liverpool city centre street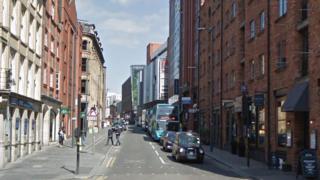 Liverpool City Council will consider banning cars and private hire taxis from a busy city centre road following "safety concerns".
Certain vehicles are prohibited from Hanover Street in the daytime but there are plans for a "bus gate" that will only allow certain vehicles through.
The council said there had been 26 collisions between May 2014 and 2017.
In a document, it said prohibiting private hire vehicles "would further reduce the number of collisions".
It also said there was "pressure from bus companies to provide a consistently reliable bus route through the city centre".
The current restriction, which bans most vehicles other than taxis and buses from a south-westerly direction between 06:00 and 18:00, has been in place for decades.
However, the council said the bus gate would "formalise" it, allowing the authority to "enforce the issue of general traffic accessing the area".
If the plan is approved, the street will only be accessible to buses, black cabs and those needing access to reach their businesses.
'Strictly enforced'
Due to planned changes on Lime Street, more buses are also expected to use Hanover Street.
Councillor Richard Kemp, leader of the local Liberal Democrat party, said the Hanover Street plan was "in principle, a good idea".
"Our concern is that there is no coherent programme putting all these plans together."
Councillor Tom Crone, leader of the Liverpool Green Party, said they had been calling for the move since changes to the 82 bus route.
"We want to see these restrictions strictly enforced to support a reinstated 82 service.
"To address the safety concerns, several city centre roads should become 20mph backed up by proper enforcement by Merseyside Police."
He said the flow of buses through the city should improve "so that an efficient and affordable public transport network becomes the first choice for most people".
Steve Radford, leader of the local Liberal group, said he was unable to comment due to his role on the planning committee.
The independent candidate is yet to respond.