Mersey Gateway Bridge toll charges clarified after legal case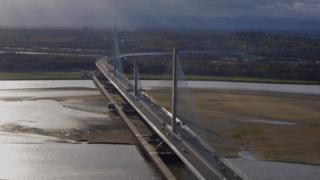 Tolls on the Mersey Gateway Bridge have been clarified following a tribunal's findings over the legality of charges.
The Traffic Penalty Tribunal (TPT) found a driver was not liable to pay a toll as Halton Council had not specified the fee correctly.
The council was also found not to have given correct notice of charges on the Runcorn to Widnes crossing.
Halton Council passed changes to the tolls, which clarify the cost for a car crossing the bridge, on Wednesday.
A spokesman said the changes will come into effect immediately.
The TPT has put 450 penalty appeals regarding the bridge on hold until a case review on 8 May.
The authority is disputing the TPT's findings and has applied for the decision to be reviewed.
However, it has updated its charging order to make charges clearer, specifically showing that cars will be charged £2 per crossing.
The new order also extends the discount scheme for Halton residents to include students and apprentices and allows more ambulance service vehicles to travel free on the crossing.
Halton Council said about 10 million vehicles had crossed the bridge since it opened in October and 250,000 penalty charge notices had been issued for failing to pay tolls.
Operators estimated £1m of fines had been issued in the first month.