Merseyside Police chief angry at 'louts' who spat on patrol cars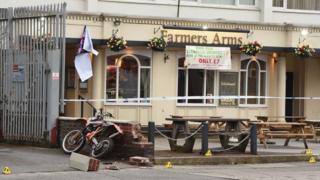 The head of Merseyside Police has spoken of his "disgust" after patrol cars were spat on and their tyres let down while officers helped a badly injured motorcyclist.
The 24-year-old was critically injured after hitting a wall in Fazakerley, Liverpool, on Tuesday afternoon.
In a tweet, Chief Constable Andy Cooke condemned the actions of "pathetic louts".
Assistant Chief Constable Ian Critchley described it as "outrageous behaviour".
He said the attackers did not have "a shred of human dignity" and praised the officers for the way they dealt with a "really challenging and difficult incident".
The scrambler bike rider crashed outside the Farmers Arms pub before being taken to hospital suffering head injuries.
Longmoor Lane was closed while police helped deal with the incident. It is understood officers will now examine CCTV and arrests could be made.
A Merseyside Police spokesman said: "At the moment our priority is dealing with the road traffic accident which has left a young man in a critical condition."
Mr Cooke said he was "proud" of his officers but "disgusted by the pathetic louts who did this."
He later added: "It's important that the vast majority of Merseyside's law abiding public who support the police understand the challenges my officers face when they are helping others and doing their job."