Alfie Evans: European Court of Human Rights considers case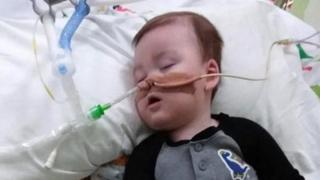 The parents of a toddler fighting a decision to switch off his life support have taken their case to Europe after exhausting all legal avenues in the UK.
Alfie Evans has a mystery illness and his parents Tom Evans and Kate James want to take him abroad for treatment.
The European Court of Human Rights (ECHR) confirmed it was considering the case and a request to halt the withdrawal of treatment.
Liverpool's Alder Hey Children's Hospital say more treatment is futile.
Alfie has an undiagnosed degenerative neurological condition.
His parents, from Bootle, Merseyside, have taken the case to the ECHR after the Supreme Court - the highest court in the UK - refused an appeal on Tuesday against a High Court ruling that medics can switch off his life support.
The ECHR said judges were examining issues relating to the case but no decisions had yet been made.
"The court has received a request for an interim measure to stay the withdrawal of Alfie Evans's treatment," said an ECHR spokesman.
"The court is still considering that request."
A Supreme Court spokeswoman had said justices had rejected the couple's bid after analysing written arguments from everyone involved.
After the decision Mr Evans tweeted the court had "not even acknowledged Alfie's rights to live or that he has no diagnosis [therefore] no proof he will not live".
Alder Hey said in a statement that Alfie's parents had applied to the court in Strasbourg with allegations "their Article 14 and Article 8 rights have been infringed".
It said: "Our priority is to continue providing Alfie with the best care possible."
The couple wants to take their son to the Vatican-linked Bambino Gesu Paediatric Hospital in Rome for treatment.