Liverpool Council make U-turn over Croxteth Hall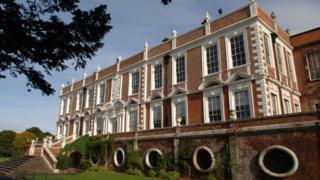 A council has made a U-turn on the future of a country estate and decided to keep running it in the hope it will become a "major tourist attraction".
Liverpool City Council invited bidders to take over Croxteth Hall and Country Park in 2015 because it could not afford the £1m annual running costs.
A "rethink" had now "negated the need for an external operator", it said.
Local historians said the move showed "civic pride", while bidder Signature Living said it was "senseless".
The council said more than 600,000 people visit the 500-acre estate every year and it was hoped that number would double after investment.
Their plans include a major repair programme to the Grade II-listed house, "developing the current wedding market", putting on more "concerts, seasonal fairs and artisan markets" and improving parking facilities.
Croxteth Hall and Country Park
Croxteth Hall was the ancestral home of the Molyneux family, the Earls of Sefton, and parts of it date to 1575, though it is mostly 18th Century
The hall and parts of the estate were bequeathed to the people of Liverpool following the death of Hugh, the 7th and last Earl, in 1972
It is at the heart of what was once a great country estate stretching hundreds of square miles
Councillor Steve Munby said he understood bidders would be "disappointed... but this new commercialisation approach to our parks negated the need for an external operator at Croxteth".
He said there had been a "radical rethink" of services and the site was the "unpolished jewel in this city's crown", so retaining and investing in it "made the most sense".
A Signature Living spokesman said the company was "disappointed" their plan to create "a prestigious wedding venue, boutique hotel and training centre that offered apprenticeships to young people" had been rejected.
He added it was "a senseless decision" from a council which had been "haemorrhaging" money on the park.
Stephen Guy, chairman of West Derby Society, said the council's decision shows a "resurgence in civic pride".
He added the "marvellous asset" had the potential to attract millions of visitors.
The council's plan for the estate goes before cabinet on Friday.