Liverpool: Pedestrianisation plan for Bold Street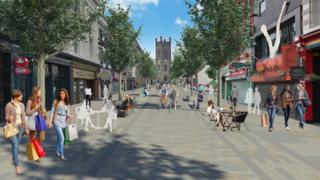 A central Liverpool street known for its independent eateries could be pedestrianised under new plans.
Liverpool City Council has unveiled proposals to stop traffic using Bold Street as part of a raft of measures for the Ropeworks area.
Other proposals include closing part of Seel Street at night, reversing the street's the one-way system and improving lighting and seating.
If approved, the works could start in January and be completed by November.
Funding of £4.5m has been secured for the first phase of the works, with £1.5m coming from section 106 cash the council has collected from developments in the city centre.
The council said it wants to reduce the amount of traffic collisions in the area and help attract future investment.
Ann O'Byrne, deputy mayor of Liverpool, said: "Pedestrianising the full length of Bold Street has the potential to cement this amazingly colourful, vibrant street as one of the most dynamic in Britain."
A public consultation will be held at FACT on Monday.