Oldest pooch Snowy has a new woof over his head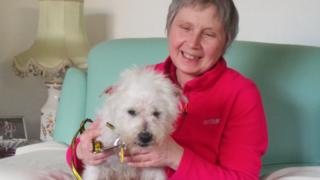 The oldest dog a national charity has ever looked after is putting its paws up at a "retirement home".
The 20-year-old West Highland terrier, Snowy, was taken to the Dogs Trust centre in Huyton, Merseyside, after its owner became ill.
The pet was taken in by Margaret Millar, of Wigan, and is now "happily settled", the trust said.
Ms Millar, who cares for several older dogs, said: "It's like a dog retirement home. We all enjoy an afternoon nap."
She said her oldest dog before partially-sighted Snowy arrived was her 16-year-old Yorkshire terrier Ben.
"They get on very well and Snowy has fitted in wonderfully," she said.
The Dogs Trust said it was difficult to find homes for older dogs, so staff were delighted.
Centre manager Georgina Lowery said Snowy "will be very, very happy with Margaret in his twilight years."